Sar pentru intro, sar peste entuziasm, sar si peste faptul ca inca-mi simt fiecare firicel de par din cap ridicat si trec direct la faptul ca aseara Depeche Mode a facut un show de milioane pe Arena Nationala! A fost prima data cand i-am vazut si, recunosc, nu ma asteptam sa fie asa. Intre anii 2003-2005 ma numaram printre fani, apoi… usor, usor am inceput sa nu-i mai ascult iar acum mi-am adus aminte de ce imi placeau atunci atat de mult.
Aseara nu era om care sa nu se miste ( sa sara sau sa iti bage degetele in ochi ) pe ritmurile melodiilor lor, melodii vechi dar nu invechite, pe care toti cred ca le stim: Enjoy the Silence, Personal Jesus, Heaven, Just Can't Get Enough , People are people , Precious.
Da, toti sunt fermecati de Dave, solistul trupei, eu am fost, sunt si raman fermecata de…. chitarist.  Martin Gore, oh…. omul asta canta intr-un mare fel si el este cel care a compus si versurile legendarelor piese : Enjoy the Silence, Personal Jeasus, I Feel you. Aseara a interpretat IMPECABIL melodiile: "Home" , "Higher Love" si "When the Body Speaks", si ne-a cucerit iremediabil cu vocea sa. Acelasi lucru, in mod cert, il poate spune si Roxana, mandra cu, care m-am simtit grozav de bine aseara si care mi-a purtat frumos de grija pentru ca mi-s un pisoi kinder.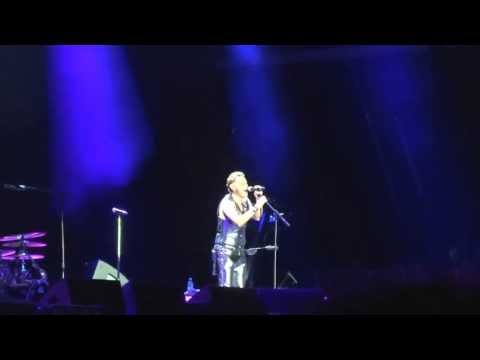 In fine, am fost incantata de tot ce am vazut si am auzit la concertul Depeche Mode. In mod clar zilele acesta toti vor fi in mood-ul Depeche Mode dar se vor potoli apele.
Am fost multi si cu totii am plecat de pe stadion cu un zambet larg pe fata si cu amintirea unei seri absolut fantastice petrecute alaturi de Depeche Mode.
Si…. multumesc Cosmote pentru bilete.